Preventative Maintenance
The reliability of your business and your facility's operations hinge on your ability to have safe and reliable electrical power. Even small electrical failures or disturbances could cause devastating consequences including:
loss of electrical power
extensive downtime of operations
damage of expensive electrical equipment
loss of refrigerated inventory or goods
hazards to employees
increased expenses of locating, repairing, and upgrading your system after an event has already occured and caused damage
Our electrical system analysis could prevent these issues from happening in the first place and help your system recover quicker in the event of an accident saving you from tons of cost and hassle later. Improve, Optimize, and Protect your facility now! Contact us now to get started or continue reading to learn more.
Prevent Downtime of Facility Operations
An electrical disturbance can cause downtime of your facility operations. Even a short amount of time in a power outage could be monumentally devastasting to your business. Below, we have the results of a study by Rutgers University for the US Department of Energy Office of Industrial Technologies giving an estimation of downtime costs for a variety of industries. These results were published in their Industrial Productivity Training Manual, 1996.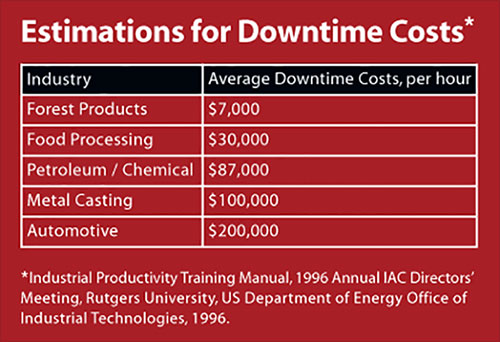 As you can see, with potential losses this significant how there would be a benefit to performing relatively minor electrical diagnostic and preventative maintenance work now in order to reduce your risk to possible downtime of operations.
Prevent Loss of Electrical Power
Many companies in the U.S. are unprepared for business disruptions caused by power blackouts, and are often unaware of the true costs and impact that they can have on their operations.
According to an article at Allianz, research shows that the financial impacts of even a small power cut can be catastrophic. Analyses from blackout events in the US show that a 30-minute power cut results in an average loss of US$15,709 for medium and large industrial clients, and nearly US$94,000 for an eight-hour interruption. Even short blackouts – which occur several times a year in the US – add up to an annual estimated economic loss of between US$104 and US$164 billion.
Furthermore, Larry Hunter, the Risk Engineer at Allianz Global Corpo rate & Specialty (AGCS) in Houston, says that "while organizations may feel that the likelihood of power outages is beyond their control, they should still assess the impact that an electrical blackout could have on their operations and important machinery, so that they can review and determine whether they have the right controls in place to help mitigate the risk."
Financial losses could include everything from the loss of refrigerated inventory or goods to hospitals and other emergency facilities where people may be on life support equipment and lives depend on reliable power. In this event, a loss of electrical power may even open the business up to potential liability. There is also very little available coverage in the insurance market to offset the risk. According to Michael Bruch, Risk Consultant at Allianz Global Corporate & Specialty (AGCS), "There are policies that cover business interruption but usually they are only triggered by physical damage, such as a fire on site, which covers on average just 20 to 25 percent of the business interruption losses."
Dr. Curtis Latzo is an expert at using electrical analysis to help you get your facility prepared. An Analysis could help prevent downtime and much more. Improve, Optimize, and Protect your facility now!