Arc Flash Study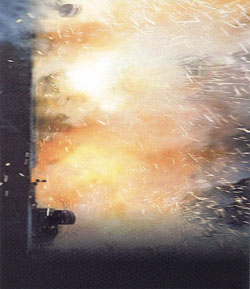 What is an Arc Flash?
An Arc Flash is a type of electrical explosion that results from a low impedance connection to ground or another voltage phase in an electrical system. Arc Flash hazard exists whenever personnel are servicing electrical equipment while its still in its energized state. While it is preferred to de-energize equipment prior to servicing exposed energized parts, occasionally it is necessary for qualified personnel to work within energized equipment. Under these circumstances, personnel need to be qualified to work on the particular equipment in question, and to follow the guidelines outlined in NFPA 70E.
What Electrical Panels
need an Arc Flash Study?
The National Electrical Code, NFPA 70E and OSHA list that all panel boards, switch panels, fuse panels, breaker panels, motor control centers, motor control panels be surveyed and labeled with the ANSI approved arc flash warning label. In addition, the list concludes by stating "Any panel likely to be serviced by a worker" so, that means any electrical enclosure such as disconnects and machinery attached to the "hard wired" electrical system in your facility should have an Arc Flash Analysis performed.
Note: An Arc Flash Study, Arc Flash Analysis, Arc Flash Hazard Prevention Study, Arc Flash Hazard Analysis, and Arc Flash Studies are the same thing.
Why should I have an Arc Flash Analysis performed?
The National Fire Protection Association's 70E publication 2000, Part II 2-1.3.3 regarding Arc Flash Analysis states that a "Flash Hazard Analysis shall be done before a persona approaches any exposed electrical conductor or circuit part that has not been placed in an electrical safe work condition." The purpose of the Arc Flash Hazard Analysis is to provide the calculated arc flash hazard of the particular equipment as installed and to provide labels for the use of maintenance personnel in determining the proper protective equipment to wear. The labels are prepared with color coding to assist in identifying the risk, green being the lowest category of hazard, with orange a medium level of risk, and the red labels having a high risk. Each electrical panel in your facility MUST be marked with an ANSI z535 approved warning label.
Do I REALLY NEED to do this? Can I do it myself, or use the NFPA default tables to the get the information?
An Arc Flash Hazard Analysis must be performed to determine the available arc fault currents and arc flash hazards. OSHA regulations clearly state that an Analysis must be performed to determine these values. By performing the proper arc flash studies by calculation, you're insuring that your workers are using the proper personal protection equipment (PPE) and other safety equipment is being used. OSHA will use this to determine if you have acted reasonably during an accident investigation. In addition, keep in mind that OSHA can fine you up to $500,000 for not being in compliance. Arc Flash Study Pro uses the NFPA 70E method which is one of the most effective methods accepted by OSHA to comply with the arc flash regulations. OSHA recommends that the Arc Flash Study be done by an independent consulting firm to reduce any bias that may occur when done in-house.
Short Circuit Arc Flash Hazard Calculations:
The adjustments to circuit breaker tripping characteristics need to consider the often competing interests of safety (arc flash hazard) with reliability (selectivity). In the case of equipment where it is imperative to work within equipment that is energized, automatic transfer switches and solid state controllers, it is considered best to err on the side of safety with a trip setting that limits the time of arcing by lowering the setting parameters.
Our Arc Flash Study package includes:
Complete Arc Flash Study of your electrical panels
Single or One-Line Diagram of the electrical distribution panels in your system
Labeling of your Electrical Panels with OSHA and ANSI approved warning labels
Complete Report of the Arc Flash Study for your records
Arc Flash PPE Purchase advisory report
Full Compliance of NFPA 70E and OSHA 1910 Arc Flash Regulations