Power Studies Services
(Electrical System Analysis)
Facilities of all sizes, from hospitals to corporate buildings to schools to industrial or commercial facilities, all rely on a steady, reliable, and well-maintained electrical power system. Even small electrical failures or faults can have devastating consequences including extensive and expensive downtime of company operations, damage of critical equipment or inventory in the event of a power outage, as well as the expense of locating and repairing the damaged electrical equipment itself.
As this chart shows estimations for facility downtime due to electrical power system problems alone can be as high as $200,000 an hour!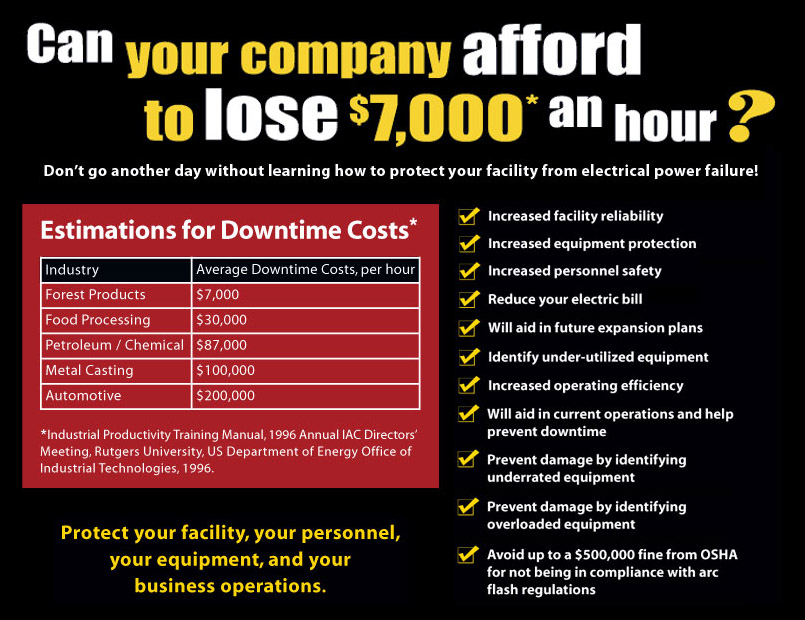 There are various points within an electrical power system where faults may occur. To increase your facility's reliability and protect your equipment, personnel, and business operations, you need to keep a well-maintained system. Your standard electrical company may be able to perform the necessary maintenance follow-through, but it's important and optimal to have an electrical diagnostic study performed by a qualified specialist in order to instruct an electrical engineer on how to specifically maintain your system.
In addition, OSHA can even fine you up to $500,000 just for not having an Arc Flash Study performed and being in compliance. As our name suggests, we are experts at performing the Arc Flash Study, as well as the following studies below. We feel that these are the most important and essential in order for you to maintain your electrical power distribution system:
What do Electrical Power Studies consist of?
An Electrical Power Study is an Electrical System Analysis performed by the Arc Flash Study Pro that includes any or all of the diagnostic or preventative services listed below. The following studies below are the most important and most essential for you to get your electrical system properly set up and reliable. There are a few additional types of electrical power diagnostic services available that we may recommend after reviewing your facility and discussing your plans but we can go over those later. For the most part, the power studies below should cover the bases.
Note: A Power Study may also be referred to as Power Studies, Electrical Power Study, Power System Analysis, Electrical System Analysis.
Arc Flash Study
(Flash Hazard Analysis)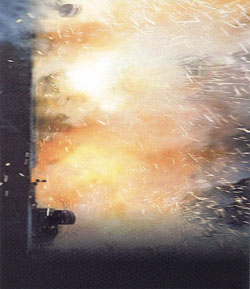 Arc flash hazard exists whenever personnel are servicing electrical equipment in the energized state. An Arc Flash Study is performed in order to determine the available arc fault currents and arc flash hazards. OSHA regulations clearly state that a Study MUST be performed to determine these values. By performing the proper arc flash studies by calculation, you're insuring that your workers are using the proper personal protection equipment (PPE) and safety equipment.
Increase facility reliability, equipment protection, and personnel safety
Comply with NFPA 70E regulations and avoid a $500,000 fine from OSHA
Short Circuit Study
(Electrical Failure Analysis)
The National Electrical Code® requires that all short circuit interrupting devices have ratings sufficient for the current which must be interrupted. A severe fault (short circuit) can have catastrophic consequences on your electrical system. Electrical systems often go through changes without consideration of short circuit level and equipment rating changes. New buildings and installations aren't immune, and fault levels can vary between systems and locations. ALL systems will fault at SOME point. An Electrical Failure Analysis, also commonly referred to as a Short Circuit Study, will provide the information required to determine if the interrupting capacities of the power system components are adequate enough to protect your power system.
Identify underrated equipment before extensive damage can occur
Increase facility reliability, equipment protection, and personnel safety
Aid in future expansion plans by providing accurate fault current calculations at each location in the system.
Protective Device Coordination
(Circuit Breaker)
A Protective Device Coordination Study will show you the probable and possible values of fault currents within the system and show you the impact short circuits and failures would have on your fuses, circuit breakers, and your facility's operation.
Increase equipment protection
Increase facility reliability by limiting the effects of a disturbance (fault/overload) to smaller areas within the distribution system.
Ensure protective device coordination by setting the protective devices to trip in sequence.
Medium Voltage Relay Settings
Medium Voltage Relays are used to protect power system devices including generators, transformers, buses, and feeder lines from power system faults. There are several different kinds of faults such as phase to ground and phase to phase and other combinations. There can be many different causes of these faults with the most common being lightning, rodents, human interference, aging of equipment, and adverse weather. The relay is used to detect the fault and then open breakers in the area to clear the fault. Relays must be set correctly to increase equipment protection, ensure protective relay coordination, and limit the effects of a disturbance.
Power Flow Analysis (Load Flow Study)
Used to determine how your electrical system will operate in normal and emergency conditions, and to check for the application of power factor correction capacitors. A Load Flow Study will:
Reduce your electric bill by determining the size and location of power factor correction capacitors.
Aid in future planning and current operations by demonstrating how the electrical system will perform during normal and emergency operation conditions.
Determine the proper transformer tap settings so the motors will receive correct voltage and other loads during full load and no load conditions.
Identify overloaded equipment
Identify under-utilized equipment which will allow future load growth
Increase the distribution system's operating efficiency and determine the most optimum operating configuration.
Motor Start Analysis (Motor Starting Study)
Used to reduce voltage flicker and voltage drop problems and to determine the best method to start the motor with minimum impact to the rest of your distribution system.